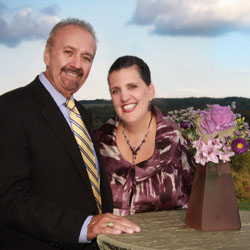 Anna and Ed Currie
Anna grew up in Greensboro and has been doing catering in the area for nearly 30 years.  Ed has been doing special events in the area for more than 20 of his 30+ years in the business.  This dynamic duo met by doing events together.  They knew that one day the dream of having their own full service catering/event company would come true.  Exclamations catering and event specialists is that living dream.
Anna and Ed are determined to show clients that when something is catered, it should be "special".  It doesn't matter if it is a drop off lunch or breakfast, or an all important corporate event or wedding.  If someone wants it "catered" it deserves to be special.  They make things special by adding décor, props and innovative food to their displays.  Finding something unique and different that can wow their audience is very important.  They have a 10,000 square foot warehouse and kitchen full of props and décor to prove it.  Every event that goes out the door has PRESENTATION and their stamp of approval.
Anna and Ed know that they are only as good as the last event that went out their door.
Groups such as NetJets, USTrust, DR Horton Homes, Greensboro Junior League, Greensboro Auto Auction, Lomax Properties, Enterprise Car Rentals, Starmount Properties, Greensboro Imaging, NC Zoological Society – Zoo to Do, SunTrust, Henredon Furniture and Magnessum Furniture  and the Democratic National Convention:  CBS News, CNN, Fox News have all trusted exclamations to add that extra touch to their events.  They produce quality not quantity.  They only take on as many high quality events that they can manage, in order to maintain exceptional standards.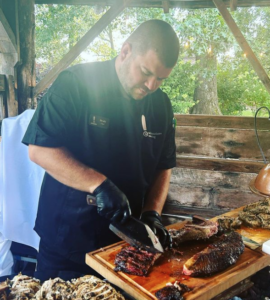 Our team also includes invaluable members:
 Brady Garner – Operations